Additional Comments
We call him Brutis. He can be registered sshbea because he has a tobiano parent on his papers. Brutis goes on trail rides every weekend & sometimes even more. He carrys a bigger man & he is tough. Brutis is VERY SURE FOOTED!

Brutis had one bad habit of not standing still when mounting. He will take off everytime. Even on long trail rides when he should be tired he still does his little thing but once your own its over. Thats just me being honest.... (read more)

Brutis is VERY LAID BACK on the trail, he is a great companion. He stands tied until you go to get on. He does not kick. He does not mind being in the front, the back or the middle.

At horse shows Brutis has won country pleasure blue ribbons. He also won his championships. Brutis has a very eye catching backend. He has a good stride. Brutis does get more excited at shows. If he is shown he needs a expierenced rider.

This horse is night & day on the trail & on the rail. On the trail a kid can ride him but at the show he needs a expierenced rider. Its not the horss or the people because he is around the same thing only more on trail rides.

Brutis has now developed a lovely head shake that goes perfect with his backend. He will catch the judges eye on the rail & everyones eye on the trail.
Shipping Notes
will haul for you for a additional charge.
---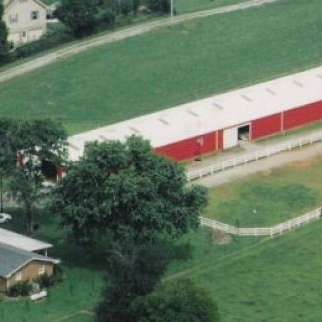 Blue Spring Stables
Our barn is located in Decherd, Tn. Trainer Brian Wainwright. We invite you to join our gang, horses are a hobby and a luxery you can relax while we do the work. Horses keep familys bonded by being such a fun hobby theres something for everyone to do, whether thats ride, show, cheer from the stands or etc. We break, train, sale, board, breed, trail ride, teach riding lessons and show horses and will take the best of care of your animal if it is in our barn.... (read more) Your welcome to come by as much as you want! We will give a deal on multiple horses. Brian has proven himself in the show ring and put many in the winners circle from kids to the older building confidence up & self esteem. We love juvenile riders! Brian has won 2 yr old and or 3 yr old for the past several years. So bring us your horse so he can put you in the winners circle too! You win some and lose some...its all fun and good sportsmanship.