Specialties

All Around, Calf Roping, Double Dilute, Heel, Color Producer, Dun Factor, Homozygous, Homozygous Black, Homozygous Tobiano, Penning, Performance, Reining, Rodeo, Roping, Steer Roping, Steer Wrestling, Team Penning, Team Roping, Tobiano, Tri Color
Additional Comments
Pepsis Color Master - At Stud.
Homozygous black. Homozygous tobiano. Dun Factor. Cream gene. 7 panel negative (GBED, HYPP, HERDA, PSSM, MH, IMM, LWO)

*Doc Quixote* *RR Riskymastrpiece* *Pepsi Poco* *Ris Key Business* *Q Ton Ace H* *Gabes Six Kings* all on this stallions papers, with **Cutter Bill** and **Doc Bar** just off.

Pepsi is 5 panel and LWO negative EE,TOTO,Aa,Cr,DN

Homozygous black AND Homozygous tobiano

Cream gene (buckskin) PLUS dun factor gene (At least 75% of his foals will be buckskin and/or dun, grullo and/or smokey black - even on sorrel mares)

$750
Early booking discount for live cover if booking fee is paid before January 1st - pay only a $600 stud fee (booking fee of $200 is deducted from stud fee).... (read more)
Multiple mare discounts also available.

Diaman H Stables - Central Iowa

Like us on Face book: Diaman H Stables

We've raised quality horses for over 30 years and THIS IS THE ONE that every stallion owner dreams about owning. He is quiet, and sensible, one of the easiest stallions to be around that we've ever owned. He has an outstanding cow horse pedigree, as well as outstanding conformation. BONUS: He is homozygous tobiano, homozygous black, has the dun factor gene AND the cream gene. That means that 100% of his foals will be tobiano, and AT LEAST 75% of those tobiano foals will be dun/buckskin/dunskin/grulla/grulla cream/smokey black regardless of the color/markings on the mare. "Color" on the mare greatly increases those already amazing odds.

Pepsi's foals are proving to be very trainable, with Pepsi's great mind, work ethic, and "try". While most of his foals are simply well loved family horses (4-H, Trail, etc), a few are finding their way into the show arena. So far, the ones I know about are performing as mounted shooting horses, and with his talent and athletic ability there is no doubt he will sire competitive show prospects.
---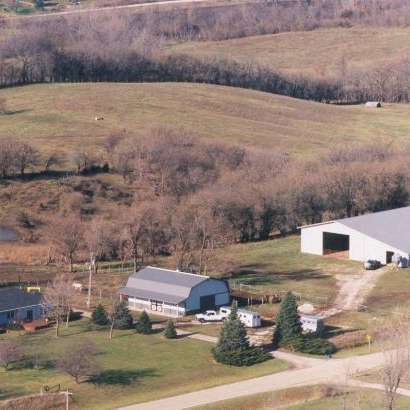 Diaman h Stables - Where Quality Meets Color
Breeders of APHA reining, roping, and working cow horses. Specializing in dun factored/roan tobianos w/Ris Key Business bloodlines Standing multiple world champion Ris Key Business - APHA b/w tobiano. (deceased 8/2012) Also in 2011 and 2012 - standing APHA bay roan tobiano son of Color Me Smart (o/o full sister to Peptoboomsmal) 2014 - Pepsis Color Master. Buckskin/dun (dunskin) tobiano stallion - double homozygous (tobiano/black) RR Riskymastrpiece, Doc Quixote, Ris Key Business, Pepsi Poco.... (read more) 5 panel testing as well as LWO done. All good. ;-) Double hz black tobiano SON of Ris Key Business o/o dtr Shots Flying Spark. Blue roan tobiano SON of Colored Me Blue o/o dtr Strait From Texas. We have 200 acres of pasture for horses, all cross fenced into smaller pasture for monthly rotation during the grazing season. The pastures not being used for grazing are open for trail riding by our boarders. We have several paddocks (100 x 200) with run in sheds, as well as the standard stall boarding in the barn. Access to the 60 x 152 indoor riding arena is included in monthly board fees.