Additional Comments
Mitril is a fabulous imported Czech Warmblood Kinsky stallion. He successfully completed the 2013 70 Day North American Stallion test, and we are proud to offer him to a select number of mares.
Mitril is a true athlete, always willing to work, has fabulous jumping form and very correct, balanced conformation.

Mitril is an excellent Czech bred Kinsky (20.31% Kinsky lines) stallion with a great performance pedigree. Along with his ability to produce golden offspring, he's got a temperament of gold and has a great work ethic!... (read more)

In Dec 2013, Mitril successfully completed the 2013 70 Day North American Stallion Test with a very respectable score in an exceptionally tough group of phenomenal stallions! We are so proud of him, and all he accomplished at the test. He proved himself to have a phenomenal attitude, character and work ethic and remained sound, sane and happy during the incredibly difficult training and immense stress of the test. During the test he showed very correct form over fences with a brave approach and was always confident. He showed exceptional obedience and willingness in every aspect of the training (dressage, jumping and cross country), always maintaining very balanced gaits, rhythm and natural self carriage.

He was said to be one of the "easiest" horses at the stallion test, and that is testament to his uncomplicated and willing nature.

Mitril is a true athlete, performance horse and willing partner, and we are confident he will pass those traits on to his future offspring!

His sire, Alois, is a very good Grand Prix show jumper (150cm), who won the competition for 6 years old horses in Czech Republic. Alois' grand sire was the famous Grand Prix jumper, Alme Z, who was also a prolific sire of Grand Prix jumpers. Alois is approved in the Main Stallion Book for both SCHCT (Czech Warmblood), and Kinsky (SCHKK) registries.

His dam, Mitra Kinská, was a very good mini-maxi jumper and is 31% Kinsky lines and is in the Kinsky Main Mare Book. She is by the stallion Burbon. Burbon is known for producing top showjumpers and eventers.

Mitril's color genetics are Ee Aa CrCr and is guaranteed to produce palomino, buckskin and rare smokey black offspring.

Mitril is fully approved with RPSI, Westfalen NA and his foals are eligible for full registration with GOV (German Oldenburg Verband ) with outside/Erkend stallion fee as well as other North American and European registries.
Frozen semen is available for North America, Australia and EU, please email for pricing on frozen doses, or check our website for the most current information.

Shipping Notes
Stud fee includes booking fee. Collection and shipping fees are to be paid directly to vet.
---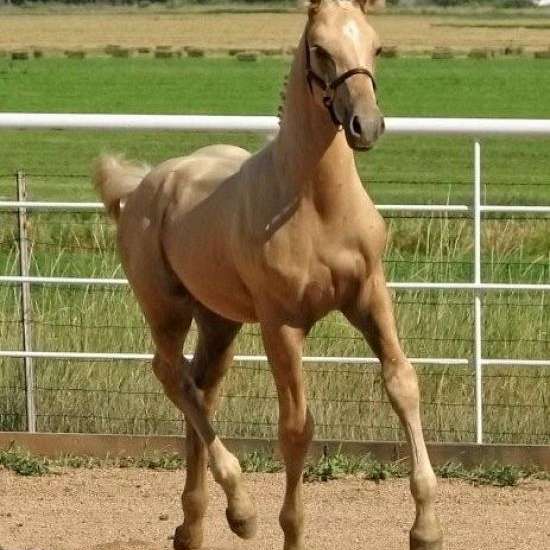 Goldenedge Sporthorses
We are a small, private facility that specializes in offering quality young warmblood and sporthorse prospects. Standing imported warmblood stallions and specializing in breeding warmbloods and sporthorses for dressage, jumping and eventing. We love our color!! While we do not compromise quality for a pretty shade of horse, we do specialize in breeding golden and dilute warmbloods with full pedigrees and out of imported stock!... (read more) We breed several select quality palomino, buckskin, perlino and cremello warmblood foals each year. We also stand our stallions to the public. We are a full service boarding and breeding facility as well, offering high quality care and expertise. Foaling out, mare management, stallion management and all aspects of breeding services are available through at our facility through our expert repro vet. For boarding and training, we offer excellent quality care, instruction and training for all ages and stages. We are also a foster home for Knick O Time Horse Rescue, a Colorado based 501(c)3 non profit horse and barnyard rescue. Youth and beginning riders always welcome, gentle school horses available. Camps, clinics, youth/4-H programs available.