Specialties

All Around, Champion, Driving, English, Eventing, Gaited, Color Producer, Homozygous, Homozygous Black, Performance, Show Winner
Additional Comments
THE BELOVED GG STARBUCK STUD BOOKS ARE NOW OPEN FOR THE 2022 BREEDING SEASON!

SIRE: LATCHO DROM
DAM: KUCHI
DNA: EE (BLACK/BLACK) HOMOZYGOUS BLACK
COLOR: SOLID BLACK/WHITE FOREHEAD STAR
AWARDS: CHAMPION EARLY SHOW CAREER & RATED FIVE STAR STALLION BY CONFORMATION AND MOVEMENT
(which means Starbuck is perfectly proportioned and balanced with refined head and structurally correct body & bone with equal parts of heavy hair and feather)
CREDITS: PRODUCED THE WORLDS FIRST SOLID BLACK GYPSY VANNER FILLY WITH NO EXPRESSION OF WHITE ON HER BODY
DICIPLINES: DRIVES, RIDES WESTERN, RIDES ENGLISH
LEGENDARY PEDIGREE DIRECT LINES TO THE FIRSTS

His offspring are beyond beautiful and talented as is he!... (read more)
What sets us apart from other breeding farms and breeding stallions...We guarantee our shipments. Please Contact for a copy of our 2022 breeding contract, we always look forward to working with new clients in designing your dream foal. It is as exciting for us as it is you!!

We offer fresh cooled shipped semen and frozen semen on GG Starbuck. Our fresh shipments have a 99% pregnancy success rate the first try and 100% live foal rate. Our frozen semen shipments to date have a 100% pregnancy success rate the first try and 100% live foal rate. He does not disappoint in so many ways!!

Our current website is moving from Cherry Creek Vanners dot com to a more mobile and readable site at cherry creek stables dot net where you can read more about GG Starbuck, see more of his gorgeous foals and get to know us better. If we can be of any other help answering any questions for first time breeders, we are happy to!

Some fun new GG Starbuck video has been posted to Cherry Creek Vanners on Tik Tok for enjoyment and he has his own page on FB as well @ggstarbuck

GG Starbuck is the first born, out of our mare Kuchi, the first Gypsy Vanner born on USA soil, he is a first of firsts they often say. Starbuck is a five star Gvhs rated stallion, the highest rating given by two independent judges based on overall conformation and movement. Buck rides and drives, spending much of his life driving wedding carriages. He has a highly successful championship early show career and is considered Legendary among horse enthusiasts! Starbuck produces world class offspring both of color and solids.
​
In 2020 GG Starbuck produced the first solid black filly in the world with no expression of white on her body. There is only one other confirmed case, which is a stallion in New Zealand.
Shipping Notes
Please contact us for a copy of our 2022 breeding contract and stud fee
---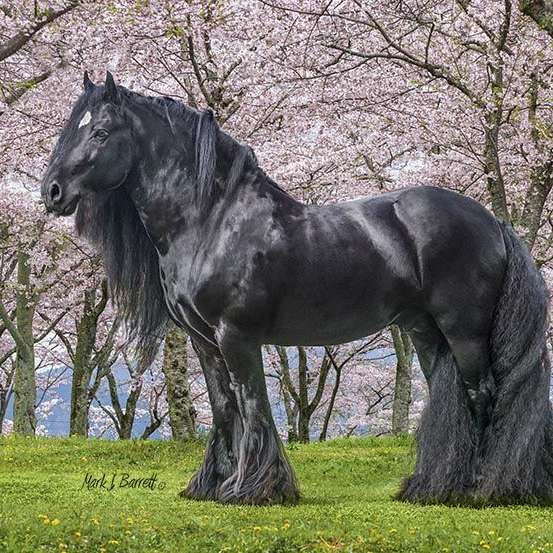 Gypsy Vanner Breeding/training facility