Specialties

Double Registered, Flaxen Mane, Color Producer, Homozygous, Homozygous Black, Homozygous Tobiano, Tobiano
Additional Comments
Jenn's Blue Eyed Stallion stands at 14.2 H, has two bright blue eyes, & a double mane.

What I love most about Blue is that when you walk up to him & look in his eyes, you feel as if you are in the presence of an old soul. He is good with children & animals alike. Blue shares his morning hay & grain with our Dwarf Blue Eyed Goat!

He is a gentleman around mares, & keeps a close eye on the foals. Blue is our built in alarm, if there's something 'out of sorts' on the farm, he is the 1st to let us know.... (read more) His demeanor is what the Gypsies bred for & I am blessed to have him.

2010 Stallion (GG Mojo x HV Snowflake)
TT, EE, aa
GVHS & GHRA Registered

Bloodlines Include: GG Mojo, GG Cushti Bok, GG Shampoo Girl, The Old Horse of Wales, Callie, Romany Rye, Rhonda, Old Horse of Ireland, JC Mare, Old Horse of Pat McCann, Blue, Westmoreland Curly Sue, The Rocking Horse, Westmoreland Splish Splash, Chief, The Old Horse of Wales, & More!

*Cooled Semen Available. No live cover to outside mares.

Gypsy CaraVanners is located in Central Florida & has been breeding Gypsy Vanners for over 10 years. We have multiple horses available, & publicly standing stallions. Contact Gypsy CaraVanners for more information.
(864) 72 GYPSY
All horses are GVHS registered.
---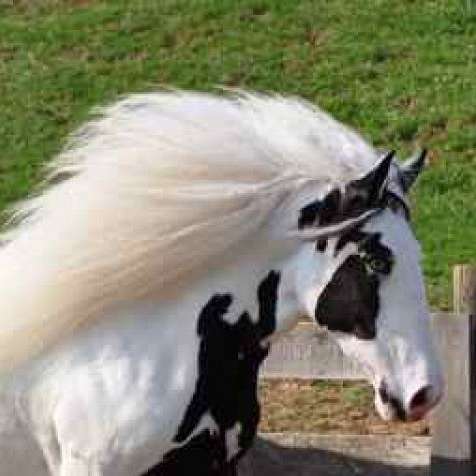 Gypsy Caravanners
All horses are registered with GVHS & DNA verified lineage. Blue Eyed Gypsy Vanners Cobs