Specialties

All Around, Cutting, Dressage, Driving, English, Eventing, Gymkhana, Halter, Hunter, Jumper, Hunter Jumper, Penning, Performance, Reining, Team Penning
Additional Comments
Royale Sumernitz

Midsumernitzdream (NYN Ndoto) x Rroyalee (Royale Bay)

AHA 668796

Heterozygous Grey (Gg)
Homozygous Agouti (AA)
Non Black (ee)
Base coat color Chestnut

Sire line: Ibrahim
Dam line: Al Hamdaniah

AI collection begins Feb 1st - ends July 1st

Breeding Special for 2024: $1000

Booking Fee: $200 (included in stud fee)

Live cover - Mare care $10 (US) a day

Standard stud fee: $1500

CA: N/N Clear
SCID: N/N Clear
LFS: N/N Clear
OAAM1: N/N Clear

As each of his foal crops arrive, he proves over and over what a prepotent sire he really is.... (read more) All of his foals have outstanding heads on top of correct and extremely functional bodies that can do even the most strenuous of sports. His foals do not disappoint!

Royale Sumernitz "Tig" is an extremely substantial stallion. The size and mass of his structure is not something you see very often in the Arabian breed. Tig's strongly influenced Spanish and Babson breeding has ensured his mild temperament along with his extremely kind, soft, loving eyes. Even though Tig has a very massive structure, he has quite a refined head with delicate chiseled features, large eyes, and short tipped ears placed well on his head. He has a beautiful hinge at the poll, with his neck placed well on his shoulders, superb carriage of tail, and strong short cannons on his correct legs. Tig has a strong hind quarter, and even at an early age, used his hind quarter in outstanding ways. His hips have the prefect angles to really get under himself and maneuver. His natural cow cutting moves are a delight to see in an Arabian.

Tig is adding substance back into the Arabian breed. He keeps the kindness, the soft eye, and the willingness of the Arabian that it is so well known for. Tig adds a strong hind quarter for any kind of work you seek to do with his offspring. He also sires the short back and strong loin in his foals. The legs on his foals are breathtaking! And in this day and age, we need a stallion that will sire outstanding legs.

If you want a stallion to breed your mare to that is sweet, easy to handle, and is functionally correct, then Tig is the one.
---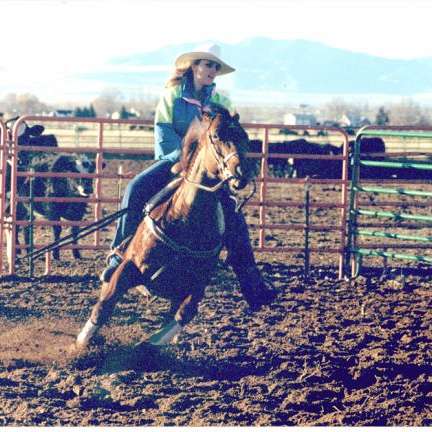 Double Starz Ranch
Raising quality performance, ranch, & endurance horses for 30 years. Specializing in *Bask, *Naborr, & Ferzon purebred & partbred Arabian lines.