Specialties

All Around, Champion, Double Registered, English, Color Producer, Hypp N/n, Hunter Jumper, Money Winner, Performance, Show Winner
Additional Comments
Krayola is really filling some big shoes, he has points in AQHA western pleasure and does the hunt seat, he is great minded, I raised him. standing 16h he is putting size on his foals! with full paint and qh papers the double registered horse is the way to go! show in both associations.

Krayola was started as a turnback horse in the cutting pen. He then went on to do some hunt seat, and then later western pleasure.
He not only has an awesome, do anything disposition, but is fluid legged with the ability to lope slow and correct for the pleasure, with the natural lift and point the toe look(flat kneed) without the "head bob" you see from some of the other horses...... (read more) He is a natural loper with his legs staying neat and close to the ground. If I have to pick him apart, his jog could stand to be tightened up to more of the modern look, but he can do both western and english, but honestly you can teach one to jog... that lope though, you gotta have that from ability and conformation. He trots out effortlessly and if you couldnt tell, I love my stallion. Foals available for sale, his oldest are coming three in 2019 and and showing with all levels!
Shipped semen only. He stands at NC State University.
---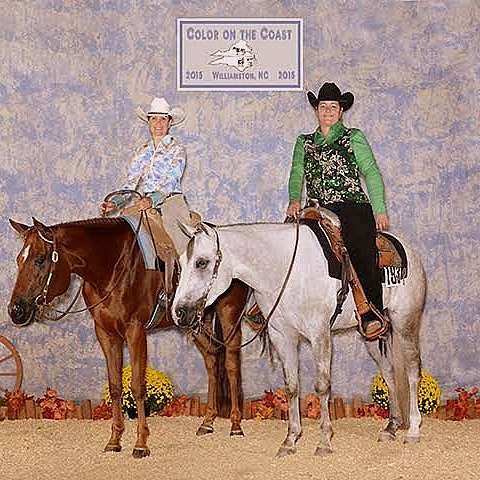 Double Creek Farm
AQHA, PHBA, APHA and IBHA horses available for sale. Show prospects, finished horses, and TRAIL HORSES!