Specialties

All Around, Dun Factor, Homozygous, Homozygous Black, Hypp N/n, Performance, Show Winner, Triple Registered
Additional Comments
At stud: Very Rare Silver/White Colored Grullo Stallion, Homozygous black and Homozygous Dun (EEaaDD No Cr). Mark Me Famous is a 2014 registered AQHA, IBHA, ABRA and FQHA stallion. He is 93% Foundation and is 5 panel N/N. He is a IBHA World Champion Dun Factor horse, and a Reserve World Champion Halter Horse. His accomplishments in 2016 are as follows: 2016 SWBA Year End Grand Champion Dun Factor; Year End Reserve Champion Two Year Old Stallion; and Year End Reserve Champion Jr.... (read more) Horse Western Pleasure. This well balanced, easy going stallion will guarantee color on your future foal. He will put black legs and a dun stripe on every one of his babies, and he does not carry a cream gene (which means he will never produce a perlino, cremello, or a smoky cream colored baby). He is incredibly quiet, loves people, and will win your heart. He is 16 hands. His first babies were born in 2018. Babies for sale can be found on our website. Considerations for multiple mare and proven mares. Shipped semen available. Let us help you produce your dream horse. Watertown, WI. Like us on Facebook at: Karen's Quarter Horse Buckskin Ranch. Visit our website for more pictures, contracts, and more. www.kqhranch. It will not post if I add the - com - so add that.
---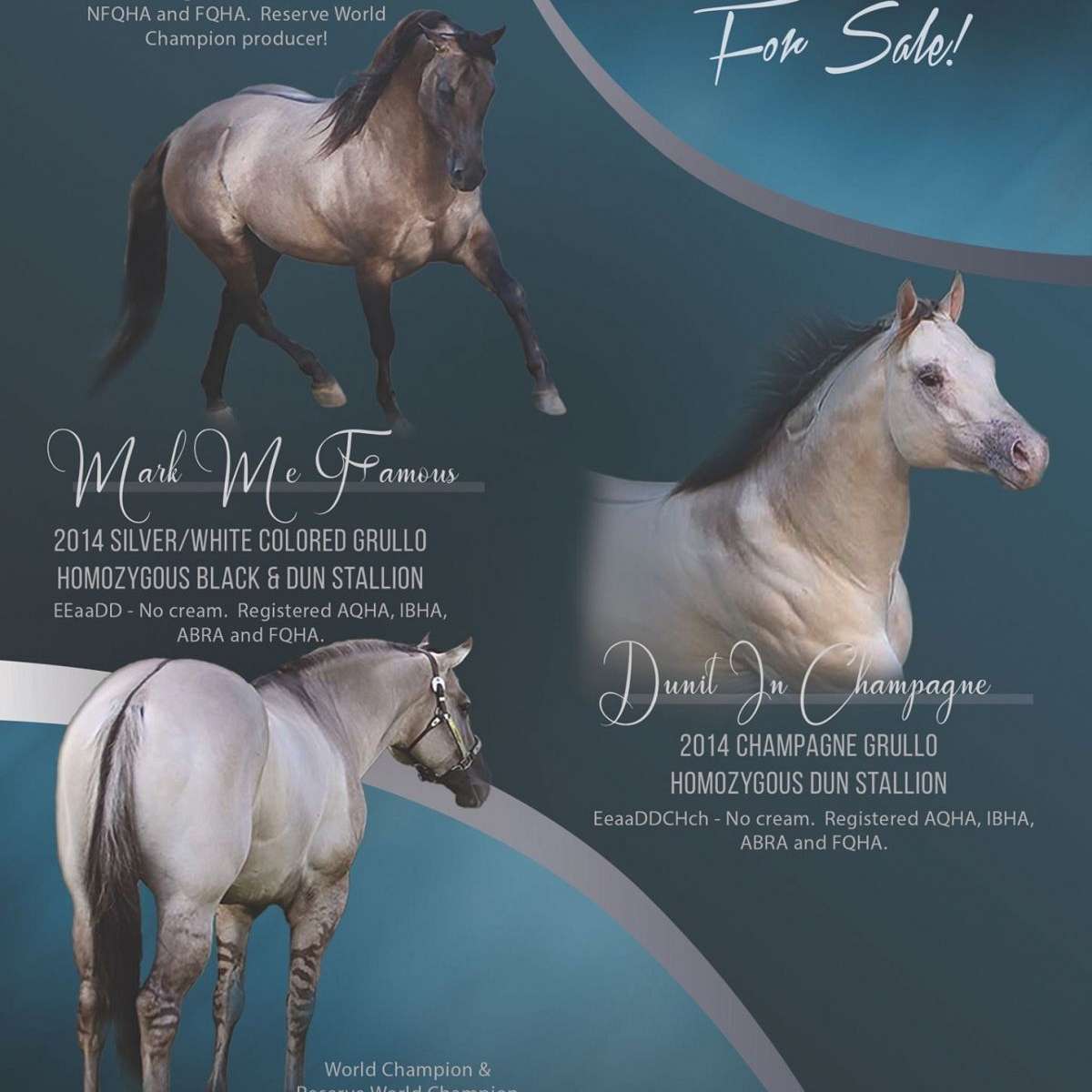 Karen's Quarter Horse Buckskin Ranch
We breed rare colored quality Quarter Horses - Grullo, Champagnes & Champagne Grullos & buckskins. Disposition is important to us, as is quality. Currently we have standing AQHA stallions at stud - silver/white colored Grullo stallion who is homozygous black a dun, a Smokey Grullo homozygous black stallion, a Champagne Grullo homozygous dun stallion, and a golden Buckskin Stallion. We also have a mini Dunskin homozygous black stallion.... (read more) We sell babies and currently have a few broodmares for sale. We offer color with quality. Let us help you find your dream horse.