Specialties

All Around, Dressage, Homozygous, Homozygous Black, Show Winner
Additional Comments
We accept Venmo, Paypal, Zelle, all major credit cards and bank debit cards.
We offer a liberal live foal guarantee on all of the Blackshire stallions; a live colored foal guarantee for Lazarus.

NOT FOR SALE - STANDING AT STUD ONLY

The Breeding is good for two full breeding seasons. We offer a liberal live foal guarantee.
Booking fee is $250 (included in breeding fee) per mare. **Standard rate for 2024 is $750 breeding fee**
.... (read more)
We are proud to be standing at stud the 17.2h purebred Friesian stallion "Martzen" Martzen is offered on site live cover or cooled shipped semen. MARTZEN IS NOT FOR SALE.

Collection fee for cooled semen is approximately $300 including overnight FEDEX shipping.

Daily on site mare care for a box stall with part day individual turn out is $12 per day for a dry mare and $15 per day for a wet mare.

We are located in Western South Dakota. You are welcome to contact us via Facebook, email our email address or please call/text (651) 248-1317 for additional information or to review a breeding contract you can go directly to his individual webpage where we do have links available.

Martzen 2012 Purebred Friesian Stallion (Doaitsen x Fetse)

Martzen is tall, elegant and modern with good bone and impeccable conformation. Martzen has a playful, fun personality. He thrives on attention and adores people. Martzen is bred to excel as a sporthorse. He has a short back and a powerful hindquarter that will allow him to drive from behind.

As a two year old, Martzen was shown in hand at the Canadian Andalusian Nationals and won all five of his classes.

Sire, Doaitsen 420 is a sport type Friesian stallion of impeccable pedigree and performance. He is an impressive, regal stallion with very good movements and conformation, a noble head and a lot of presence. He has an active trot with good use of the hind legs and a lot of height and energy. He was the biggest stallion of his year and is known for his long forelegs. His walk is long and ground covering. Doaitsen has a balanced and rhythmical canter. At his licensing he was given 7.6 for walk, 7.8 for trot, and 6.9 for canter, points which gave him the overall score of a high 82.50 points. The jury awarded him a 1st premium. His tremendous willingness coupled with high trainability gives this stallion a great future. He is a son of Wander from a line from Duhoux, from Hindeloopen. His dam was classified 'model' as was one of her sisters. The grandmother was preferent. In 2005 Doaitsen had the highest index for producing first class foals. In Kootwijk, his daughter Silkevan 't Speijksbosch was declared the best filly foal of the show. Offspring Rixt Vrouwkje and Pieter L were champion foals in Drachten. Doaitsen son Pierre van de Olde Moate was the best colt in Hengelo. Doaitsen 420 also sired Tibbe. Doaitsen 420 is presented by Marijke Folmer in M dressage, is aimed toward Z dressage competition. He was Reserve Champion of 2009 and in Leeuwarden he had the most fillies presented at the Mare Selection.

Damsire, Fetse 349 Sport is one of the all time best breeding stallions within the FPS Studbook. He has 4 approved sons, 7 model mare daughters and a Star average of 46%. He has been awarded the Sport predicate for carriage driving. At the 2011 Stallion Show in Leeuwarden, there was a special tribute to him with 4 of his model mare daughters

Martzen is offered via on site live cover, on site a.i. or via cooled shipped semen.

This is an extraordinary caliber stallion. He is charming, loves people, has wonderful gaits and is stunning in person! Martzen has thick hair with a LOT of feathering. We have been impressed with the quality of his foals - tall, intelligent, lovely and amazing gaits; we have test bred him to a variety of mares and have been thrilled with the across the board quality.

We are located in SE Minnesota. You are welcome to contact us via Facebook, email our email address or please call for additional information. Downloadable contracts are available on Martzen's individual webpage.
---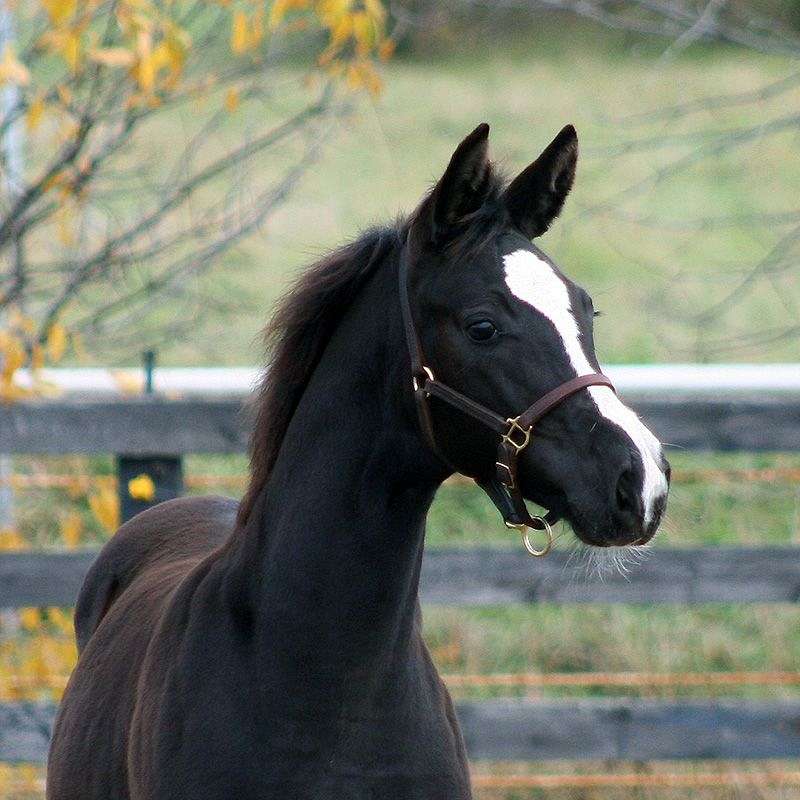 Blackshire Equestrian Centre
We are a dressage breeding and sales facility breeding for International quality sporthorses as well as exotic horses that are still successful sporthorses. Standing at stud purebred Friesian stallion Martzen 17.2+H son of Doaitsen, grandson of Wander and Fetse; Purebred Irish Draught stallion Blackshires Ares and 15.2H homozygous black/homozygous tobiano Purebred Gypsy stallion Lazarus. Young Warmbloods, Friesians and Irish sporthorses for sale at all times!