Specialties

All Around, Gaited, Color Producer, Homozygous
Additional Comments
LOOKING FOR A BLUE ROAN TENNESSEE WALKING HORSE: GO TO SHADOWRIDGE.visit our website AND SEE OUR SELECTION AS THEY BECOME AVAILABLE. WHY PAY FOR BREEDING AND BOARD, HOPING IT TAKES AND DOESN'T MISCARRIAGE FOR 11 MONTHS? BUY ONE ALREADY ON THE GROUND AND READY TO PLAY WITH....

* Currently Available: (Pictures of these foals and other foals of color on our website: shadowridge.visit our website

2019 Successor's "HOMOZYGOUS" Blue Roan Colt, born 3/5/19.... (read more) Classic Roan with small star,which may or may not disappear as he gets older. He has been genetically tested by the University of California and is positive for two Classic Roan Genes. Therefore ALL of his foals will be roan. This guy is a little more special than our other foals, and would be an excellent addition to anyone's breeding program. Plus, he pays for himself after only a few foals, then the rest is all profit. Price $9,000.00

Introducing our Homozygous Roan Filly born on 4/27/19 out of our 15 Hand Blue Roan TWH Mare, Lady Azula TWHBEA #​21500330. ​Her sire is our 16 Hand Blue Roan TWH, Blue Raptor TWHBEA #21300281. She has been genetically tested by the University of California to be Homozygous for the Classic Roan Gene. She may be small now, but she has a big personality, demanding both feed and attention. She would be an excellent purchase for someone interested in not only a great riding horse, she has the genetics to give you a Roan Foal every year. She is an investment not only in your future trail horse, but she can pay for herself and then some. Comes with Application for Registration with the TWHBEA. ​PRICE: $5000.00

Sale Pending - Outlined-N-Blue's new Classic Blue Roan TWH Stud Colt born 05/09/19. He has been nicknamed "Brutus" due to his size. He is super thick, tall, and very stocky especially for his age. Brutus is out of our 16 hand Stallion, Blue Raptor TWHBEA #​21300281 and our 15 hand Mare, Outlined-N-Blue TWHBEA #21301140. Brutus has "Coin's Hard Cash" & "Prides Generator" blood in him. This guys has been super friendly since birth, brave, and independent. He has no white on him whatsoever, and He has been tested and found Not to be Homozygous for the Roan Gene (as we were thinking about keeping him as a backup Stallion for ourselves). Unfortunately our loss is someone else's gain. Blue Roan stud colts don't last, this guy will be gone very quickly, pick him up while you can. Price: $3,500.00

Sale Pending - 2019 Ritz's Blue Roan Colt born 05/10/19 to our highly bred 15 hand mare "Shakin It At The Ritz", TWHBEA #20805553. She is the daughter to the late WGC "He's Puttin on the Ritz" and granddaughter to WGC "The Pushover" plus many other greats in her bloodline that include "Triple Treat", "The Pusher C.G.", "Prides Generator", and many more. As always, she passed on lots of style and a great gait on to her foal, and once he grows into his color, he will be a knockout. His sire is our 16 hand, Homozygous, Blue Raptor. Not only does his foals carry the ever so desired color, they also characteristically have good size, lots of muscle, and great personalities. This guy is a classic Blue Roan and does not have any white whatsoever. He comes with application for registration with the TWHBEA. Price $3,500.00

Sale Pending- 2019 Splash's Blue Roan Filly born 4/1/19 out of our exceptional 16 Hand TWH Stallion, Blue Raptor TWHBEA #21300281, and our 15.2 Hand Overo TWH Mare, Domino's Lady Splash. This little beauty was already born blue, thick tail, two matching white back socks, and a big blaze. This is one of the prettiest blue foals we have had so far. This girl should have a great gait and have some size on her as well when fully grown. She also should be a great color producer as well, her roan gene should pass on to approximately 50% of her foals. She may or may not carry the Overo gene, there is discussion that it may also be a Recessive as well as Dominant gene, still a mystery to the experts, so another potential color possibility. Our Blue Babies do not last long, and have no doubt she will sell very quickly. So if you want her I suggest you act fast.Does not come with Application for Registration. Price: $3,000.00

Sale Pending - 2019 I'm Cheeze N Crackers Blue Roan Filly. This is our Outstanding Classic Blue Roan Tennessee Walking Horse Filly, born on 04/09/19. This filly is out of our Excellently Bred Pusher Mare, I'm Cheeze N Crackers TWHBEA #20612289. She has World Champions all over her Papers, with Pusher CG on both sides. She has a super gait and build and has been a great producer for many foals throughout the years. The Sire is our 16 Hand, Homozygous Blue Raptor TWHBEA #21300281. He is our main Stallion here, a grand producer of great foals. He not only provides size, muscle, and a great disposition, he also has Bloodlines from Prides Generator and Indigo Blue. This filly is the picture of refinement, long straight legs for miles and smaller chiseled head and face. She is a picture of great breeding and would be excellent for trail, show, and future foals of her own. Comes with application for registration, expected height 15.2 hands. Price $3,000.

We are expecting several more Blue Roan Foals to be born this year. Some will be studs, some fillys, some spotted, some not, some with stars and socks, some without, and maybe one or two homozygous roans as well. Prices will start at $2800 and up based on all of the above mentioned possibilities.

All foals will be out of our Homozygous Roan Stallion "Blue Raptor". Blue Raptor is a very popular stallion, and his foals are always in demand. He stands at a stocky 16 hands tall. He is well mannered and his foals always come with a calm and friendly disposition. He has multiple champions in his bloodline including "Indigo Blue", "Prides Generator", and "The Pusher".

He has been genetically tested for color at the University of California and he is homozygous for the Classic Roan Gene So all of his foals will be Roan.

As they come, Pictures of the Babies and information are posted on our website along with our facebook page within a few days of birth. Colts sell within hours to days of birth so if you are requesting a foal please check often or follow us on our facebook page...Half of purchase price is required for deposit.

Thank You!
Shipping Notes
BUYER IS RESPONSIBLE OR ALL FEES INVOLVED IN SHIPPING. FOALS ARE AVAILABLE FOR PICKUP NO SOONER THAN 3 MONTHS OLD, AND ARE KEPT WITHOUT ANY BOARDING FEES UNTIL 6 MONTHS OF AGE OR UNTIL DEC. 1ST (WHICHEVER DATE IS SOONER). A BOARDING FEE OF $50 PER WEEK WILL BE CHARGED AFTER THIS TIME FOR 1 MONTH, AND $75 PER WEEK AFTER A MONTH. IF NECESSARY, PRIOR ARRANGEMENTS FOR BOARDING MUST BE MADE IN ADVANCE. ANY VACCINATIONS AND BLOOD WORK, INCLUDING COGGINS, MAY BE ARRANGED AT BUYERS EXPENSE. TRANSPORTATION MUST BE SUITABLE FOR A FOAL - PLEASE NO RACKS IN THE BACK OF PICKUP TRUCKS, FLOORING WITH HOLES THAT WOULD ALLOW A LITTLE FOOT TO SLIP THROUGH, THE NEED FOR HAY STRINGS, AND THE BORROWING OF BOLTS TO KEEP THE DOORS CLOSED AND WALLS TOGETHER, AND RUNNING WELL. PLEASE DON'T BREAK DOWN TO, FROM, OR WHILE YOU ARE PICKING UP THE HORSE. (UNFORTUNATELY THIS HAPPENS MORE THAN YOU WOULD THINK- NOT KIDDING).
---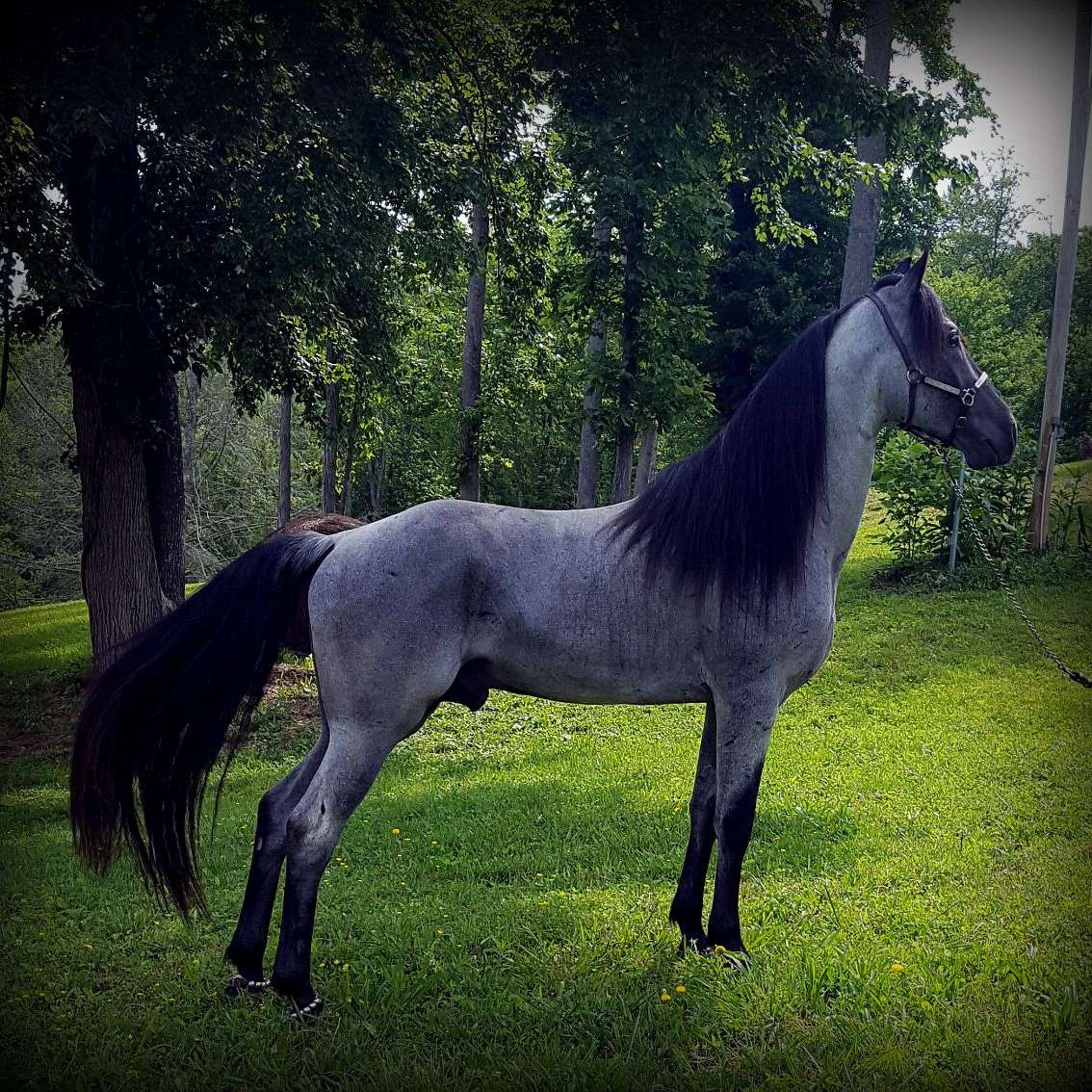 Shadow Ridge Stables
HORSES ARE OUR BUSINESS, WE PRIMARILY FOCUS ON HORSES OF COLOR. WE TRY TO KEEP A VARIETY OF HORSES, ALL SHAPES, SIZES, AND COLORS, SO THAT OUR CUSTOMERS HAVE A NICE SELECTION TO CHOOSE FROM WHEN THEY COME TO BUY THEIR HORSE.