Additional Comments
"Goldmaker", is a well-built, guaranteed COLOR producer. He is a stout, athletic, double Registered Paint / Pinto HOMOZYGOUS TOBIANO Cremello. This means that he will ONLY produce PALOMINO and BUCKSKIN PAINTS / PINTOS. He will not produce smokey black or solid foals. This stallion is truly All-Around bred, - cow, performance, show and race bred!. He has the great Champion and Hall of Fame breeding of "Montana Doc" and "Doc Olena", plus "Hollywood Bill" & "Hesa Commander"; AQHA Champions "Stormys Sugar", "Ribbon Page", "Pawnee Eagle" and APHA Champion, "Dynamite" and All-around APHA point earner "Dyna Joe".... (read more) This stallion also has the race breeding of APHA "Shutout", which sports the bloodlines of the great "Go Man Go", plus "Bar Deck", "Moon Deck", "Barred", "Goldseeker Bars" along with other foundation racing horses scattered throughout his bloodlines. We shouldn't forget to mention the great foundation horses such as "King", "Leo", "Skipper W" & "Three Bars". This stallion has a TRIPLE FOAL GUARANTEE. We will guarantee a live foal, a paint/pinto patterned foal that will qualify with APHA registry, AND single dilute foal (palomino, buckskin, dunalino, dunskin (or gray if bred to gray)). If one of these conditions does not occur, - color, pattern or live foal, you will be entitled to a free rebreed. LWO - Neg. Goldmaker has the speed and athleticism to burn a barrel or catch a cow, and the conformation to hold it, along with a willing mind and good looks, - you can't go wrong with a combination like that.
If you are looking for a guaranteed color producer for that great All-Around foal, Go for the "Goldmaker". We will be shipping semen in 2015, Please call or email for details.
---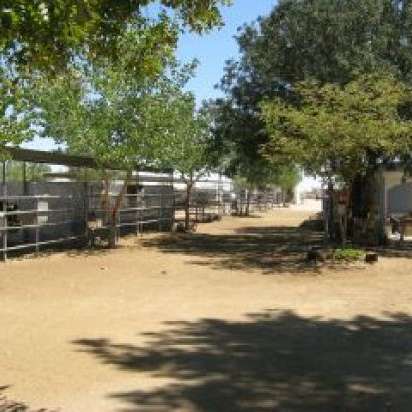 Odyssey Ranch
Odyssey Ranch specializes in Quarter Horse racing & performance bloodlines, as well as Paint Horse performance bloodlines and color. We offer Quarter and Paint stud service, boarding and lay-ups, Horses for Sale and transportation. We have guaranteed color producers of Palomino and buckskin foals. Our race-bred stallions carry the bloodlines of "Chicks Beduino", "Check Him Out" and "Dash for Cash". Please check out our website at www.odysseyranch.com for more information.