Additional Comments
Invested By Far, aka Ray, is an APHA World & Res World Champion and is also a multi World & Reserve World Champion sire! Enrolled in AQHA Incentive Fund, APHA Breeders Trust, PHBA PIP, NSBA SIF, and the East Coast Halter futurity.

He has NO Impressive in his pedigree which makes him a COMPLETE outcross for todays modern halter and performance bred mares. Rays foals both halter and ride! He has sired multiple performance point earners in numerous events including Western Pleasure, HUS, and LL.... (read more) Most recently one of his fillies tied for 4th in her class at the Tom Powers futurity. His foals are not only incredibly pretty but very intelligent and trainable. Invested By Far has also sired an AQHA Western Pleasure point earner and an AQHA World Show Qualifier in yearling Halter mares. His halter champion foals also ride!

To date Ray has produced 78% Overo and 68% color other than sorrel on AQHA mares. Invested By Far is AQHA registered so breeding your AQHA or TB mares to him means all foals are eligible for double registration (APHA and AQHA) regardless of color or coat pattern. Furthermore they can all be registered in PtHA and if solid or minimal white overo Palomino they can get PHBA papers as well.

If you want to breed for color without the risk of producing a SPB only foal this is the horse to breed to. AQHA Incentive Fund, APHA Breeders Trust, Palomino Horse Breeders PIP, & NSBA Stallion Incentive Program nominated. Here you will find pictures of Ray as well as some of his foals. Visit his website for more information.

2015 Stud Fee: $650 plus shipping/collection or onsite AI fees. We offer discounts for proven mares, multi mares, and accept all major credit cards. 5 Panel Genetic Tested N/N (non-carrier) for HERDA, GBED, PSSM1, MH, and with no Impressive bloodlines he is N/N for HYPP. OLWS n/O. He is homozygous for the Agouti gene meaning he will not produce a black foal so if you want a good chance to produce a buckskin out of your black or bay mare this is your boy.
Watch Invested by far - Apha - Aqha World Champion Stallion
Shipping Notes
Collection & Shipping fee's are extra. Booking fee is $150 and is included in the stud fee.
---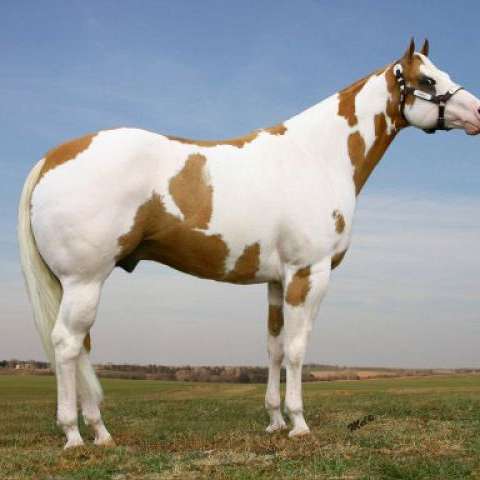 Rougeux Paint & Quarter Horses
Home of Invested By Far - 2007 APHA World & Res World Champion earner and producer. AQHA/APHA Registered & proven producer of halter and performance horses. Absolutely no Impressive bloodlines - the perfect outcross for todays modern Halter & Performance bred horses!