Additional Comments
Shining Mountain Thoroughbreds proudly and with great excitement stands Painting
Freedom! By the world's leading sire of colored Thoroughbreds and out
of a 7 times race winning mare, Painting Freedom presents a unique opportunity for
both race and sport breeders. Freedom's naturally uphill movement, phenomenal extension,
and amazing
suspension conbined with perfect balance and eye opening athleticism make him a perfect
combination of conformation, movement, disposition
and breeding all packaged in a gorgeous true black and white overo coat.... (read more) Dual registered
with both the Jockey Club and APHA, Freedom's Thoroughbred foals will be eligible
to be registered and raced or shown as both Thoroughbred and Paint. His non-Thoroughbred
foals will be registerable according to the registration status of the dam. Freedom
has sired
foals in a wide range of colors and patterns from his first foal Arctic Bright, a
pure white colt who sold for $80,000 at the November 2007 Keeneland Breeding Stock
sale to
the gorgeously marked chestnut and white overo Patrick, who was foaled in Australia. Painting Freedom's offspring are in training as race horses,
hunters, and dressage and event horses. Freedom will only be bred to 10 Thoroughbred
mares in 2014, so book early to reserve your spot! He will stand to an unlimited
number of non-Thoroughbred mares for a fee of $800. Shipped semen is available to
non-Thoroughbred mares. Crosses wel on nearly all types of mare, and passes on his
color to a very large majority of his foals.
---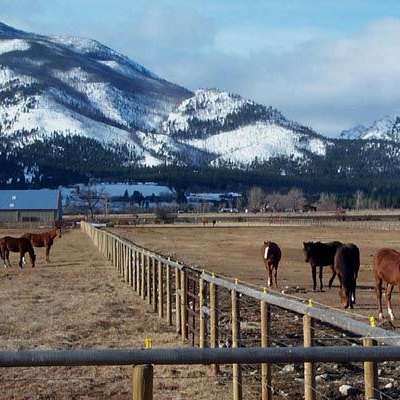 Shining Mountain Thoroughbreds
Thoroughbred farm located in the beautiful Bitterroot valley of western Montana specializing in the raising and training of Thoroughbreds for the track and show careers and the rescuing and retraining of off the track Thoroughbreds in need of new homes