Additional Comments
Dragoon Scottish Highland AKA Angus is for sale and at stud until sold. Health forces downsizing of breeding operation. Angus is for sale to a breeding home for $3500. Original ad below:

He is a very mellow black stud who is worked with daily so he has brains as well and dashing good looks. He is green broke, ground drives, walks over obstacles, stands when tied, backs from pressure and moves side to side, touch anywhere, lunges, trims, catches easily and comes when called.... (read more) See web site for videos showing his manners.

His sire has National champions in his papers and great, typey bloodlines as well as homozygous black.

His dam Rapture has government lines with many National and World champions in her bloodlines. Rapture is a Reserve National Champion in harness and Top 7 in the World.

He has had two Morabs foals that were lovely but was our junior stallion we were waiting to grow up a bit then health issues interfered with breeding operation plans. Too pretty to geld we think with amazing bloodlines, brains, conformation and looks.

If not sold then we will be gelded and stay my gelding and lawn mower.

We are standing Angus to two mares in 2015 at an intro fee at $600 live cover only. All the usual guarantees.

See our web site for many more photos of Angus plus brother, sire and dam photos. http://www.dragoonmorgans.com or call 509-796-2140. Please leave a message.
Watch For Sale: Angus, Mellow Morgan Stallion
---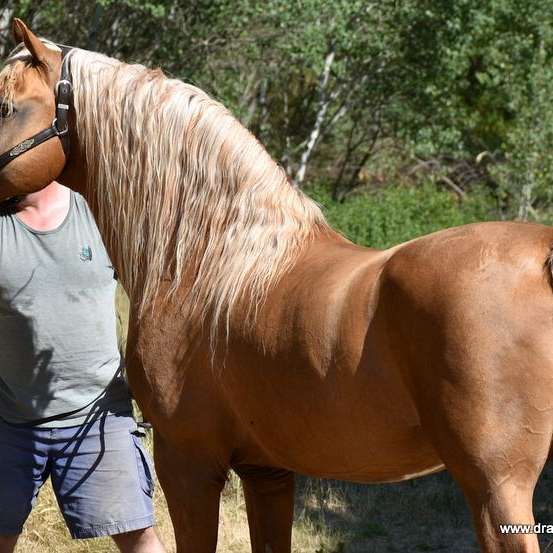 Dragoon Morgans
In Morgans since 1964, we are standing a black Morgan stallions at stud to all breeds and gorgeous Morgan foals for sale now and then. We only have a few foals and they are well handled, trained and shown before sold so they are very mellow and kind, load, stand tied, etc. We continue their training until sold then breed a foal or two. We are not large breeders but the ones we sell are trained a lot before leaving.... (read more) Sorry we do not work outside horses or board them but we can refer you to people who do that. We only have enough time to train and sell our own horses. We do volunteer with Rough Start Horse Rescue to work and market some of their homeless horses since 2010. Secretary of the Spokane Morgan Club, www.spokanemorganclub.org to see stallions at stud, horses for sale, events and more. We take in Morgans and crosses from Rough Start Horse Rescue to foster, train and find homes.